At Labcold, we are often asked whether we can do something a bit different for our customers, and after scratching our heads we usually say yes.
For example, we were approached by a major US pharmaceutical manufacturer with laboratories in the UK to make double door refrigerators that could accommodate and work with their chart recorder. In addition they wanted the chassis to be fabricated entirely from stainless steel, inside and out with internal tubing for various temperature probes and mesh between the two sides of the refrigerator.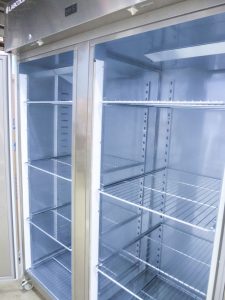 For an export customer who needed pharmacy refrigerators with a stainless steel interior so they could supply a government tender we changed the manufacture of the required amount of our Intellicold® refrigerators so they could conform to this specification. Usually these refrigerators have either a plastic or powdered steel lining, but as the customer is always right we went the extra mile to ensure these were manufactured to the exacting specification.
So, if you have a special request or need something a bit out of the ordinary, please ask us. We have many years' experience working with customers on special projects and we only say no if we really, really have to!