Over the coming weeks we will be rolling out our new IntelliCold® pharmacy refrigerators, designed and developed for the storage of temperature sensitive vaccines, pharmaceuticals, reagents and samples.
Featuring a new touch screen controller using the same technology as a smart phone screen, this controller locks after 30 seconds so buttons can't be pressed accidently and it is completely flat so is easy to clean with no protruding buttons.


To ensure that these refrigerators meet MHRA wholesale regulations, they are now all fitted with a second 'wandering' temperature probe that can be placed anywhere in the chamber of the fridge or in a simulated load.
As you would expect they are designed and developed to meet the requirements of the DH Green Book in that they have minimum/maximum temperature recording with a reset, high/low alarms, fan assisted cooling, digital temperature display showing both probes, a choice of glass and solid doors and a choice of key or digital locks across the range.
In addition, all IntelliCold® pharmacy fridges have an access port, remote alarm contacts, energy saving LED light and a self-closing door. They also have alarm battery back up, so if there's a mains power failure and they are fitted with batteries (not supplied) the fridge will alarm. They also use a low GWP refrigerant.
Like the previous intelliCold® controller, this one too records temperature data every minute plus certain fridge operations such as door openings, whether the fan or compressor is running and records the duration of alarms. This data can be downloaded to an optional Micro SD card and transferred to a computer for storage, making it easier than ever to keep comprehensive, objective temperature data.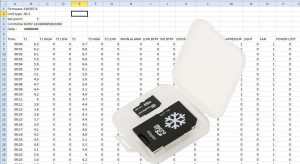 As you would expect, all labcold intellicold® pharmacy refrigerators are CE marked and backed by a 5 year parts and labour warranty (UK only). Should you want manufacturers calibration, Labcold are a UKAS temperature calibration laboratory No: 8998 so we don't just use traceable instruments, our technicians are trained to follow UKAS procedures too.