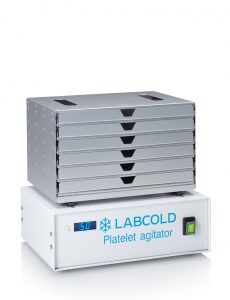 Registered Medical Device in accordance with UK MDR 2002
High gas permeability
Quiet operation
Rigid steel stand to support racks
Stroke per minute range 40 – 60 rpm
6 rack removable stainless steel tray
A Labcold Platelet Agitator complete with the six shelved Labcold rack is designed for its high ventilation capability, thereby allowing the necessary oxygen to transfer to the platelets.
Designed to work with Labcold Platelet Incubators, the agitator rotates in accordance with WHO recommended speeds.
The registered Medical Device agitator comes complete with a rack system comprising of six levels of hygienic retractable aluminium trays that can be removed and autoclaved if required.
For extra traction, Labcold anti-slip mats are available.
When used in conjunction with a Labcold Platelet Incubator, the agitator will automatically stop when the door is open.
Product Code:

Platelet Agitator + RACK1006

Configuration

6 Level Flat Bed

Shelves

6

Certified Medical Device

yes