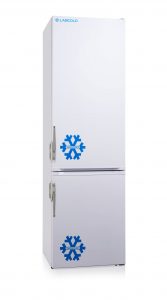 Automatic defrosting in fridge
Drawers in Freezer
Low GWP refrigerant
Sparkfree
Door open alarm – fridge compartment
Small footprint
Door lock to both fridge and freezer compartment with 2 keys
This Labcold Sparkfree fridge freezer is engineered to store fammable materials safely with all potential sources of ignition, such as the thermostat removed from inside the compartments of both the fridge and the freezer.
Customisable to meet your requirements, we can add a digital temperature display with high and low temperature alarms with minimum and maximum temperature recording if required. Please ask for details at time of ordering.
Warning: Do not store open containers of volatile substances in this fridge freezer
Product Code:

Fridge Freezer RLFF13248/LK

Configuration

Upright

Capacity (Litres)

271/113

Height x Width x Depth

2000mm x 625mm x 680mm

Weight

67.5kg

Shelves

5

Temperature Range

Fridge +0 to +10, Freezer -18 to -23

Door Type

Solid

Lock Type

Key lock with two keys supplied

Temperature Display

optional

High/Low Temperature Alarm

optional

Door Open Alarm

yes

Mains Failure Alarm

no

Max/Min Temp. Recording

optional

Auto Defrost

yes