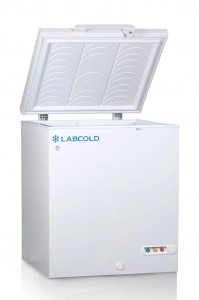 Sparkfree Freezer 215L RLCF0720
Very stable storage conditions
Operator controlled defrost
Low energy consumption
Lockable
Supplied with on basket
Over temperature visual alarm
Mains indicator light
A 215 Litre Chest freezer with a Sparkfree safety interior.
All Labcold chest freezers provide very stable storage conditions and slow temperature rise if power is interrupted.
They are rated for low energy consumption and include a lid lock for extra safety. Locating samples can be made simple and straight forward by use of a Labcold sample racking system – please ask us.
WARNING: Do not store open containers of volatile substances in this freezer
Product Code:

RLCF0720

Configuration

Chest

Capacity (Litres)

215

Height x Width x Depth

865mm x 725mm x 655mm

Weight

46kg

Temperature Range

-18ºC to -25ºC