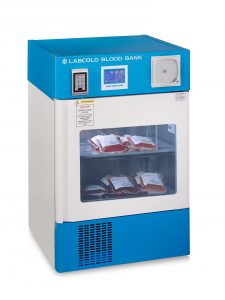 Dual Compressor RSBG2056MD
Dual independent refrigeration
Labcold Keypad Electronic lock
Stainless steel
Glass Door
Labcold Alarm and Control System
Adjustable shelves
Dual temperature display with load simulator
Blood audit interface
Core temperature alarm
Registered medical Device in accordance with UK MDR 2002, and is compliant with BS4376: Part 1:1991.
This cabinet has a top mounted instrument panel, for convenience and ease of use.
Adjustable shelves with clear inner doors ensure stable storage temperatures during door openings, whilst allowing rapid checking of stocks.
The unique Labcold Keypad Electronic Lock, which allows only authorised persons to access the contents by entering 4-digit code.
LABCOLD'S UNIQUE ALARM AND CONTROL SYSTEM provides a constant check of all important performance parameters with clear symbol displays of alarm status.
A touch panel display constantly shows both chamber and liquid load simulator temperatures. A mutable, audible alarm is standard and remote alarm contacts are provided to integrate with compatible external systems.
Please Note: Labcold Blood Bank refrigerators may require a manual defrost periodically
Product Code:

Dual Compressor RSBG2056MD

Configuration

Free Standing

Capacity (Litres)

118

Capacity (Bags)

56

Height x Width x Depth

1045mm x 655mm x 670mm

Weight

80kg

Shelves

2

Temperature Range

+2ºC to +8ºC

Door Type

Glass

Lock Type

Digital

Temperature Display

yes

High/Low Temperature Alarm

yes

Load Temperature Alarm

yes

Door Open Alarm

yes

Mains Failure Alarm

yes

Alarm battery backup

yes

Auto Defrost

yes

Access Port

yes

Remote Alarm Contacts

yes

Dual Refrigeration

yes

Certified Medical Device

yes