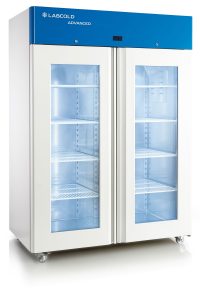 Digital temperature display
High/low temperature alarm
Door open alarm
Automatic defrost
Adjustable shelving
Lockable castors
Independent door locks
LED energy saving Internal light
Low GWP refrigerant
Self closing doors
Double glazed insulating glass doors
Available as a solid door model see RPFR44043
FREE manufacturer's calibration certificate
2 year parts and labour warranty (UK only)
Large double door advanced pharmacy refrigerator designed for the storage of large quantities of temperature sensitive pharmaceuticals between 2°C and 8°C.
Featuring microprocessor temperature control and ducted air flow, you can be confident that despite the size of the fridge, everything within it is stored in optimum conditions.
To assist with cleaning this Labcold vaccine fridge is fitted with heavy duty lockable casters and the interior is constructed from hygienic stainless steel.
Robustly constructed with anti tilt shelves designed to take up to 70kg, this refrigerator can withstand the rigours of any busy hospital or wholesale pharmacy.
Can be fitted with an access port and remote alarm contacts if specified at time of manufacture and come complete with a manufacturer's calibration certificate.
Product Code:

Advanced Pharmacy Fridge RPFG44043

Configuration

Upright

Capacity (Litres)

1300

Height x Width x Depth

1990mm x 1420mm x 800mm

Weight

215kg

Shelves

8

Temperature Range

+2ºC to +8ºC

Door Type

Glass

Lock Type

Two door locks with 2 keys

Temperature Display

yes

High/Low Temperature Alarm

yes

Door Open Alarm

yes

Mains Failure Alarm

no

Max/Min Temp. Recording

yes

Auto Defrost

yes

Access Port

optional

Remote Alarm Contacts

optional