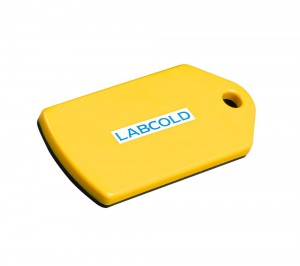 Internal battery life: 4 years
Red/green LED alarm warnings
IP68 casing
High & Low level alarms
Weighs only 54g
Designed to be simple to use and easy to clean, this
sealed and crevice free logger can be placed amongst
the load so you can prove that items are safe to use and
can produce a record of the temperature experienced
which can either be stored on your computer or printed
as a hard copy.
The RMBL1510 records time, date and precise
temperature for later analysis. It also has a reassuring
green LED to show normal operation in transit and a red
warning light to alert the user to temperature deviations.
The Labcold Transport Temperature logger requires a
reader (order RMBL1500R) and software to configure
the logger with details such as manifest information,
logging intervals and alarm thresholds. This software
also allows the user to download the data to a Windows
enabled PC where the data can then be displayed
graphically and stored as a pdf.
Product Code:

RMBL1510/CAL

Capacity

16k Internal Memory

Height x Width x Depth

117mm x 57mm x 10mm

Temperature Range

-30 to +70