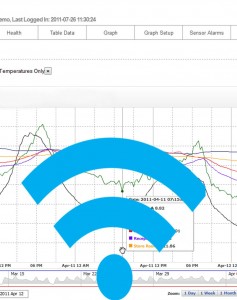 Quick and easy to install
Secure data
Reliable radio transmission
400 metre line of sight range
Performance can be monitored from your PC
Designed to continually and securely log both fridge and ambient temperatures, this wireless temperature monitoring system has been designed for accuracy and safety.
The base station features antenna diversity to make sure that all data is captured and uses multiple messaging to ensure that no data is lost.
All the information recorded by the base station can be viewed by a web page on your PC so you can see conditions in real time or review an issue.
This system is designed to be low cost and portable with no hard wiring involved. It's ideal for satellite blood fridges and well as large blood transfusion laboratories.
Product Code:

Wireless Monitoring System