Fitted with a Touch Screen IntelliCold® controller
24/7 automatic temperature data logging
Controller and alarm battery back up and door open alarm
Power failure alarm
High temperature alarm
Low temperature alarm
Minimum/maximum temperature recording and display
Off cycle auto defrost
Fan assisted cooling
Second temperature probe
Environmentally friendly refrigerant
Ammonia free
Door lock with two keys
Real time temperature display
Internal light
Optional micro SD card for transferring temperature data to your computer
FREE 1 year parts and labour warranty
This Labcold Breast Milk refrigerator has been specifically designed to store human milk in optimum conditions and features minimum/maximum temperature recording to assist with record keeping in accordance with NICE guidelines. The controller also automatically records temperature and refrigerator data. This data can be extracted by the use of a specially coded Micro SD (optional extra) and downloaded to a computer as a csv file.

With six adjustable shelves and an interior fan for even temperature distribution, this fridge is fitted with a lock and has audio and visual alarms to warn of temperature deviation and if the door is left open. For extra security, your Human Milk fridge can be fitted with a factory fitted digital lock which solves the problem of generic and lost keys.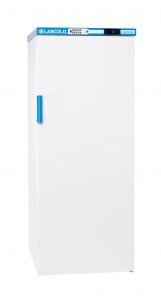 Capacity (Litres)

340 litres

Height x Width x Depth

1510mm x 600mm x 700mm

Weight

79kg

Shelves

6

Temperature Range

0ºC to 5ºC

Door Type

Solid

Lock Type

Key lock with 2 keys

Temperature Display

yes

High/Low Temperature Alarm

yes

Door Open Alarm

yes

Mains Failure Alarm

yes

Max/Min Temp. Recording

yes

Alarm battery backup

yes

Auto Defrost

yes

Access Port

yes

Remote Alarm Contacts

yes

Integral Temp. data logging

yes