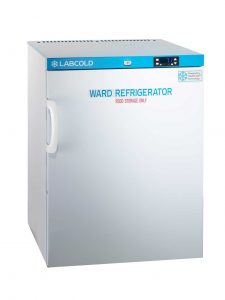 Digital temperature display
Minimum/maximum temperature recording
High/low temperature alarm
Door open alarm
Fan circulated interior
Auto defrost
Door lock with 2 keys
150 litre ward refrigerator for the safe storage of food and beverages.
Featuring the IntelliCold® controller, this fridge is designed to store food at a temperature recommended by the Food Hygiene Regulations 2006.
With fully adjustable shelves and an easy to use controller this fridge also has alarms to alert you to any temperature incursions and a door lock for total security.
For extra peace of mind, an SD card can be purchased which can be used to downlaod temperature data from the fridge to a PC.
This ward refrigerator is also backed by a comprehensive one year parts and labour warranty.
Please be aware this fridge is for the storage of food only and should not be used for the storage of vaccines or any other pharmaceuticals, medicines or biological products.
Ex Demo – Minor scratches to left hand side
Previous Price £582.99 — Sale Price £350.00
Product Code:

Ward Refrigerator 150L RLWF0510

Configuration

Under bench

Capacity (Litres)

150

Height x Width x Depth

820 x 600 x 610

Weight

38kg

Shelves

3

Temperature Range

+2 to +8

Door Type

Solid

Lock Type

Key lock with two keys supplied

Temperature Display

yes

High/Low Temperature Alarm

yes

Door Open Alarm

yes

Mains Failure Alarm

yes

Max/Min Temp. Recording

yes

Alarm battery backup

yes

Auto Defrost

yes

Remote Alarm Contacts

yes