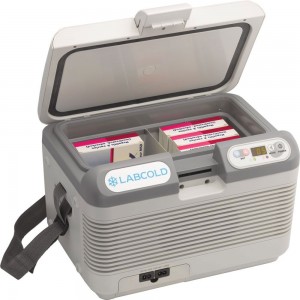 Temp range:-5 to +60ºC
Supplied with mains and in car power cables
Safe gas free peltier refrigeration
Lightweight and easily transportable
Digital set point display
Easy digital temperature adjustment
Tough plastic exterior
Simple and versatile the Labcold Digital Portable Laboratory and Medical Transporter can both cool or heat and is designed for the transporting of samples, vaccines, pharmaceuticals or indeed anything that needs to be moved under temperature controlled conditions.
Complete with an easy to read digital controller, this carrier uses mains or vehicle power via a 12v socket to cool or heat by way of an environmentally friendly peltier system. This makes it ideal for transporting vaccines by road and collecting samples in the field.
Please be aware this product is not suitable for the transport of blood or blood products.
The Labcold vaccine and sample carrier is designed for temporary temperature control during transit or short term use only. It is not designed to be run for long periods of time nor for permanent storage or to hold temperature when not connected to a power source.
Sale Item – Cosmetic Damage
Previous Price £370.00 — Sale Price £185.00
Product Code:

RPDF0012DXD

Configuration

Portable

Capacity (Litres)

12

Height x Width x Depth

290 x 420 x 290

Weight

6.2kg

Temperature Range

-5ºC to +60ºC

Temperature Display

yes