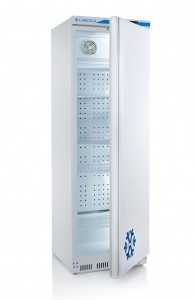 Sparkfree safety interior
Off Cycle Automatic defrosting
2 adjustable shelves
Door Lock
Temperature alarm and display
High/Low temperature alarm
Min/Max recording
Door Open alarm
The Labcold Sparkfree range has a specially manufactured sparkfree interior with all sources of potential ignition removed from the chamber. Anything that could cause a spark is located outside of the chamber making it a significant aid to laboratory safety.
For extra security a built in lock is fitted. The temperature display features high and low audio and visual temperature alarms along with a door open alarm. The controller also records the minimum and maximum temperature since the last reset. For improved temperature stability this sparkfree refrigerator features fan circulated air distribution.
WARNING: Do not store open containers of volatile substances in this fridge.
SALE ITEM – COSMETIC DAMAGE
Previous Price £1485.00 — Sale Price £810.00
Product Code:

Sparkfree Fridge RLPR1514XD

Configuration

Free standing

Capacity (Litres)

400

Height x Width x Depth

1855 x 600 x 585

Weight

69kg

Shelves

6

Temperature Range

+0ºC to +10ºC

Door Type

Solid

Lock Type

Key lock with two keys supplied

Temperature Display

yes

High/Low Temperature Alarm

yes

Door Open Alarm

yes

Mains Failure Alarm

no

Max/Min Temp. Recording

yes

Auto Defrost

yes

Access Port

optional