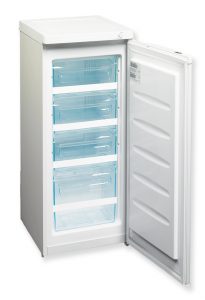 Designed for the storage of potentially flammable contents, this sparkfree freezer from Labcold has all sources of ignition removed from the inside of the cabinet making it an important part of laboratory safety.
This freezer has four fixed shelves, including a top fixed shelf fitted with a plastic flap in order to prevent  too much of a temperature variation when the door is opened.
Manufactured from powder coated steel this freezer is designed for even the toughest laboratory and can be fitted with a teperature display and a lock as optional extras.
Old stock – No damage
Previous Price £815.00 — Sale Price £815.00
Configuration

Upright

Capacity (Litres)

170 litres

Height x Width x Depth

1440mm x 558mm x 610mm

Weight

51kg

Shelves

1

Temperature Range

-18oC to -23oC

Door Type

Solid

Temperature Display

optional

Auto Defrost

unavailable