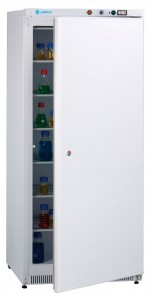 Low cost
Robust construction
Labcold reliability
Operator controlled defrost
Door lock with two keys
Enzyme compatible
Six fixed shelves
Temperature display
Designed for professional use
For laboratory and general use where large capacity combined with value for money is required and there is no risk that volatile, flammable materials or components might be stored.
Also suitable for storage of certain temperature sensitive materials such as enzymes.
This model provides basic frozen storage at a lower price while still providing the confidence of the Labcold name and support.
Lower cost production methods have been used, and certain convenience features omitted, in order to offer the best price possible without significant sacrifices in the important areas of function and reliability.
Sale item – Cosmetic Damage
Previous Price £2,060.00 — Sale Price £1,104.00
Product Code:

RLVF1825XD

Configuration

Free standing

Capacity (Litres)

505

Height x Width x Depth

1710 x 765 x 725

Weight

86kg

Shelves

6

Temperature Range

-18ºC to -23ºC

Lock Type

Key lock with two keys supplied

Temperature Display

yes