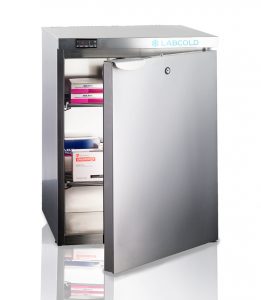 Stainless steel exterior and interior
Microprocessor temperature control
Digital temperature display
Fan assisted air cooling
Auto defrost
Door lock
High/low temperature alarm
Door open alarm
Ammonia free
CFC and HCFC free
Designed specifically for hospital and pharmacy use where close temperature control and uniformity is required, this refrigerator is made completely from stainless steel for greater longevity better hygiene control.
The microprocessor control ensures tight temperature tolerances so there is very little temperature variation throughout the chamber ensuring that the contents are kept in optimum conditions.
Although this model is the smallest of the Labcold Advanced Pharmacy Range, this fridge contains all the features that make this range ideal for the safe storage of medicines and vaccines in accordance with the manufacturers recommended temperatures.
For HPA guidance on how to store vaccines safely and use your pharmacy refrigerator correctly, please click here.
Conforms in full with Department of Health "Green Book" requirements. For more information click here and refer to Chapter 3.
Glass door model: RPFG05043
Ex Demo – Scratches on the Cabinet
Previous Price £2380.00 — Sale Price £1473.00
Product Code:

Under counter RPFR05043XD

Configuration

Under counter

Capacity (Litres)

150

Height x Width x Depth

820 x 600 x 640

Weight

60kg

Shelves

2

Temperature Range

+2 to +8

Door Type

Solid - Glass Door Model available RPFG05043

Lock Type

Key lock with two keys

Temperature Display

yes

High/Low Temperature Alarm

yes

Door Open Alarm

yes

Mains Failure Alarm

no

Max/Min Temp. Recording

yes

Auto Defrost

yes

Access Port

optional

Remote Alarm Contacts

optional