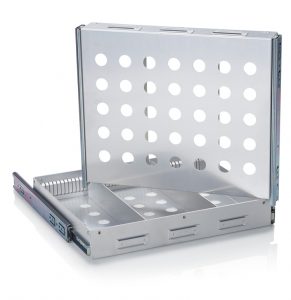 Designed for use in the RLDF/G0510 ONLY

Easy glide mechanism
Ventilated for maximum air circulation
Can be used in conjunction with shelves
Maximises storage space
Can be retro fited
Aids stock rotation
Labcold divided drawer system is designed to ensure that stock can be kept neatly and in optimum conditions.
As highlighted by the NPSA 'Guide to the Design of the Dispensing Environment', in order to avoid dispensing errors and ensure good stock rotation an uncluttered fridge is a must.
These drawers aid this by allowing products to be kept in date order and the user to pick stock without disturbing other products or medicines nearby.
Labcold's unique easy glide pharmacy fridge drawers ensure that stock can be easily seen and retrieved.
The dividers help to prevent different products from becoming mixed or confused.
Not only does this save time because you can immediately select the correct product, but it aids patient safety by making it easy to keep medicines neatly and in date order.
These drawers are available to fit the larger pharmacy fridges and can be purchased individually, allowing you to have a mixture of shelves and drawers depending on the individual requirements of your pharmacy.
Product Code:

Pharmacy Drawer PHARMDRAWER 01

Configuration

Burnished Aluminium with easy glide ball bearing mechanism